FOOTNOTES NEWSLETTER EXCERPTS
Footnotes Newsletter - August 2017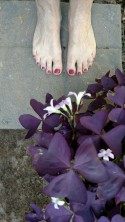 Nancie's toes imagining her new patio
Portland Stores that cater to wider feet
My heart goes out to my clients with wider feet. It's difficult to find stores that truly cater to the wider foot. So I'm going to start shoe shopping for you and report back. Let's make life easier for you!

Here are the Portland-area stores I visited this week for you:

Cobbler Bill's, 5839 SE 82nd Ave, Portland, 97266, (503) 774-9944. Open Tues thru Sat. For 43 years, Cobbler Bill has been fitting and fixing shoes for men and women. And he knows his business. Like the importance of the length of one's toes and the shape of one's heel for a good fit. The shoe selection is basic, but it's enough if you want one pair of shoes that truly fit. Cobbler Bill's is my first recommendation for dear customers who want daylong comfort in a well-made shoe. I was lucky enough to catch Cobbler Bill at the store. Be sure to call to make sure he's there for you, too.

Jay's Wide Shoes, 4037 SW 117th Ave, Suite J, Beaverton, 97005, (503) 627-0113. Open daily. Also in Clackamas Promenade, 8974 SE Sunnyside Rd, Clackamas, 97015 (503) 654-2888. Jay's Wide Shoes has been in business for over 30 years. The store in Beaverton is 2/3's women's shoes with European designs that naturally come in wider widths and rounder toe areas, Finn Comfort, Wolky, AroVon and Ziera. A few men's shoes come in the wider widths up to 4E, such as Drew, New Balance, Keen, Dunham.

Pie Footwear, 2916 NE Alberta St, Portland, 97211, (503) 288-1999. Open daily. Here's where you go if you want more natural shoes, even vegan brands. Although the shoes aren't marked wide, El Naturalista, Lems, Keen, and Vivobare are designed to be wider and more rounded. This is my go-to store for Lems, an exceptional shoe for roomy toe space.

Shoe Mill, Washington Square, Bridgeport Village, Lloyd Center, Clackamas Promenade. Open daily. Shoe Mill in Washington Square said they would order SAS, a wide shoe. They also carry lace-ups in New Balance and Hoka, slip-ons, slip-ins, and Mary Jane's in Finn Comfort, Ziera and, of course, Dansko's. I know Dansko's are great for standing on a convention floor or in surgery for 10 hours, but I believe a sole should have more flexibility so our feet can sense the ground beneath us when we move and help us create stability when we walk. I've twisted my ankle too many times in Dansko's to recommend them as an everyday shoe.

The Walking Store, Washington Square, Pioneer Place, Clackamas Town Center, The Streets of Tanasbourne and Vancouver Mall. Open daily. The Walking Store has developed an electronic foot mat that measures the pressure you put on your foot when you walk. And then they have designed a line of shoes they believe addresses different foot issues, such as pronation or the need for metatarsal cushioning. The shoe line is called Abev and it is an exclusive shoe line at The Walking Store. Next time you visit that store, let me know what you think of this. The Walking Store also carry Taos, Wakaua, Otz, Brooks, New Balance, and Drew up to 2E.

If you have comments on any of these stores, I'd love to hear. And if you have a shoe store in the Portland area you'd like me to list, please give me the name and I'll go visit soon.
Foot Notes Newsletter - July 2017

Dakota & Nancie's toes in the sun
Back to work
Okay, I'm seven weeks out from breaking my arm and I am now scheduling clients. Hooray. Please call or email me for your appointment. It's always a joy to see you!

---
Is your male partner getting up 3 or 4 times a night to urinate?
I know things about the male reproductive system I never talk about…like what can be done about prostate problems. But I was too embarrassed to say anything.

Until this summer with friends. The men started talking about how many times a night they get up and the low-grade prostate infections they've had since college days. I was too shy to speak up, but later in the evening I just blurted out, "I know something about prostates."

Then I told the story about the fellow who came three times over a three-week period. At the end, I asked him if anything had changed. And his wife mentioned he was sleeping better during the night and getting up less to urinate. I have remembered this all these years and said to myself, "Nancie, you can't be silent any longer. Why don't you offer men a chance to see if reflexology works to reduce excessive nighttime urinating?"

So here it is. A summer reflexology experiment for those who are up and down all night long.

Come for three weeks in a row for a foot/hand/ear reflexology treatment and we will zero in on the prostate reflexes specifically, to learn if reflexology can help you reduce the number of times you get up during the night. Not exactly a Mayo Clinic research project, but I believe we'll discover how helpful reflexology is. Reflexology benefits are accumulative, so I would expect the results to continue if you maintain some kind of reflexology follow-up.

If you'd like to bring your wife or partner, I will also show them how they might reflex those areas. My session cost is $80 an hour, so let me offer you a summer package to get this experiment off the ground. 3 visits in 4 weeks for $210. Call me to get on the schedule soon.
---
Find your bliss
Please don't break your arm to find out new things about yourself. Feel free to borrow from my list:
Doing little to nothing was healing to my body and mind. And I'm adding more of that to my week.
When I gave up pride and asked for physical, financial or emotional help, it was right there waiting for me. The asking and receiving was humbling.
Reducing depleting activities and clutter is life saving. I'll continue eliminating both.
Reflexology, clients, friends and family are what bring me joy. Thank you.
Bliss is painting with my mother's 50-year-old acrylic brushes and petting my dog. And I'm going to do more of both.
Footnotes Newsletter - June 2017

Nancie's toes in the violets
Accidents do happen
Two weeks ago I slipped and fractured my upper arm. I was walking into a store to get one last thing for my talk about Dr. Ray McClanahan's cutting-edge ideas re: Plantar Fasciosis, and bam, I landed on the floor. From the floor to the ambulance, to the emergency room, and to x-ray, and then to a friend's with my arm in a sling. It was a shock. Because I'm healthy. I don't know about pain or asking for help. And in seconds, my life changed.

For the next few weeks I'm dealing with this new reality. I'm not seeing you, dear client. I'm not driving and I'm in pain. My daughter, Jessica, comes early to make coffee and walk Dakota. Neighbors are bringing me roasted chicken. LMT Julie Decker brought me massage, certified reflexologist Karen Martin provided reflexology and Julie Merkl gave me physical therapy. Clients are buying reflexology sessions for the future so I can manage without my income for awhile. And those who know are emailing offers to come and help. I hardly know what to say, except, thank you.

The lesson…because there is always a lesson for me… is to realize how much I am cherished and to let your love in. Because I'm a giver by nature and practice, I'm not sure how to be a gracious receiver.
I understand it's a circle, this giving and receiving. I understand that I cannot serve without allowing myself to be served. So for now, I am grateful for this time of receiving. It is indeed a gift of healing for the healer.

Thank you.
Footnotes Newsletter - May 2017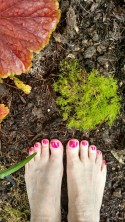 Nancie's toes in fresh spring dirt
What it takes to manage our lives
What I'm re-discovering is the importance of reaching out to my friends. It's something we women have been doing for centuries. Talking and relating to each other. Delighting in the joys and sharing the sorrows. These friendships makes us human and able to cope. When we have friends to talk to about what matters most, we can be our authentic selves.

Recently my dear girlfriends and I had a potluck with husbands in the middle of the week. The camaraderie lingered in my heart for days. And a male client shared that he meets with his group of men friends every Wednesday night.

Love. That's what helps us manage our lives now. Because we can't possibly eat, shop, work, exercise and volunteer our way through the changes we are seeing and feeling without it. We need the people we love as never before to talk with and hug. Physical and emotional touch makes a difference now. Take those you love seriously. Let them know. Across the street or across the country. And let their love in as well. We need it!

Thank you for coming for reflexology. I'm truly grateful to be part of your life. And I can see in your face after a session that reflexology is working. You walk out of that session room relaxed and breathing more deeply. Your shoulders have dropped, your face is slightly pink and you tell me this is exactly what you needed.

What I hope you'll do then is reach out and share your good energy with your family and friends. Keep this good energy going…it will come back to you.
---
Visit Sacred Money Studios & Prosperity Pie Shoppe
Find this hidden treasure in Multnomah Village, celebrating its first anniversary in The Village on May 5, 6 and 7. It's a pie, coffee, tea and wine shop and a place to learn new things with classes about how to budget your hard-earned money or about NVC (non-violent communications) or to listen to live music on Friday and Saturday nights. Hope to see you there on Sunday, May 7, from 2:30 to 4:30, when I'll be offering complimentary hand reflexology. For more info, visit SacredMoneyStudios.com
Footnotes Newsletter - February 2017

Nancie feeling secure in Magic Socks
Magic Socks waiting for you here
Recently Bob Shane, a long-time friend, Naturopath and Space Science Physicist, told me about Human Performance Technology Socks that work on the principles of reflexology and sensory receptor points on the bottom of the feet to increase stability, balance and range of motion. My curiosity motivated me to make the long drive to Seattle this January, between snow storms, to experience the effects of the socks.
Wow!! Am I glad I did it, because I was able to personally feel the effects of these socks. So now I am offering them to you. Honestly, these socks aren't for everyone, but in a few minutes, you can see for yourself if they are for you. Next time you're here, we can do a quick demonstration together right here in my living room. When you see an instant improvement in your stability, balance or range of motion, you'll see why I call them Magic Socks.
Bob told me about the research and science, but what I cared about was the results. I will show you the Magic Socks next time you're here. You'll see them on the bench. Of course, I've got all the research for you to read. Best yet, you can walk out with the magic on your feet!
---
The Women's March in Washington, DC...
I was there.
Sure, I could tell you about the practical shoes I wore with the wider toe box and the neutral, flat design. You knew I would care about my feet. But what I really want to tell you about is how it happened.

My friend, Thomas Morgan, offered me a complimentary Delta ticket because he couldn't be in DC that day. And my Washington DC friends, Bonnie and Janet, offered me places to stay. And my long time friend of 38 years, Bonnie, walked with me, arm in arm, through the streets of DC. For me, it was the day with its kind, respectful, hopeful energy that made the trip.

When I returned, my experience was the same experience I heard from those who attended in Portland, Sacramento, Seattle, Olympia, San Francisco and Boston. Here we were, thousands of miles apart, feeling the same things. I felt blessed to be there and now every day since.
---
Footnotes Newsletter - January 2017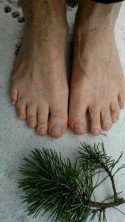 Nancie's toes take a break from color
Do you know someone with MS?
In the last few months three clients with Multiple Sclerosis have come in, and they tell me these sessions have been most helpful. With MS, resulting nerve damage disrupts communication between the brain and the body and causes different symptoms, such as fatigue, pain, and impaired coordination. Jim was first diagnosed in 2011 and has continued with his career these last six years. Someone recommended reflexology and he thought he'd try it. "During the first session, I could feel the tingling and nervous energy from my waist down subside. It was an amazing relief. I slept better that night than I had in weeks and I come now every three or four weeks!"

Marlene's symptoms include impaired coordination, nerve tingling and fatigue. She had an MRI, when her doctor suspected MS. She immediately changed her diet to eliminate sugar, gluten and alcohol and also came for reflexology because it was recommended to her. She continues to come because there is so much stress in the testing and waiting for a final diagnosis. She has found the reflexology supportive and calming. She says she feels the difference a session makes in her legs, feet and coordination.

Elaine's mother had MS and now Elaine has the diagnosis at age 39. Reflexology with the gentle listening and tender touch are helpful to her as she works with her medical doctor and sorts out what her next steps are.

Two of my clients have Medical Flex Spending accounts that have reimbursed reflexology. If you know someone with MS, please share this newsletter with them. If you have a Medical Flex Spending account, please let me know so we can work together to get your reflexology sessions reimbursement.
---
Discolored toes may not be fungus
After years of wearing bright nail polish, my toes nails changed color and I was worried I had nail fungus. When I talked to my new pedicurist, Billie Berwick (BJ) at Laurelwood Nail Co., 8154 SW Beaverton Hillsdale Hwy in Raleigh Hills, she was a wealth of information about toe fungus and nail polish. She told me many nail polishes, such as OPI, are made with formaldehyde. She recommended that I skip nail polish this winter to give my nails a break, and come spring, use ESSIE polish, which has no harmful chemicals.

I've recommended BJ to several of my clients who are having a hard time trimming their toe nails. And I recommend BJ to all my clients who want to get their nails healthy and cut properly. When you can't see what you're clipping or can't cut through those tough nails, a pedicure isn't a luxury anymore, it's a necessity.
---
Footnotes Newsletter - September 2016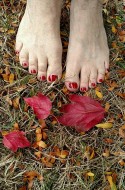 Nancie's toes celebrating fall
Enjoy the last warm days of Summer
Thank you for reading this newsletter and coming again soon for reflexology. You are important to me.
---
What do you say when a friend says she has breast cancer?
I was so taken back when this beautiful client told me she had Stage 2 breast cancer, I didn't know what to say. What came out of my mouth was, "I love you." What do you say? Turns out we might be saying the worst thing.

My client said people told her she should be grateful they found it. She said she was so sick with chemo and trying to take care of her new baby, she wished someone would have had compassion for the fact she was ill and felt terrible, not asked her to be grateful.

Another client who had cancer told me the thing she hated to hear was, "I'm sorry." She felt better when people said, "Please let me know if there is anything I can do."

So I asked Dr. Shani Fox what cancer patients want to hear. Dr. Fox is a Portland naturopathic doctor who has makes it her business to help those with cancer find their way back to wellness.
http://www.drshanifox.com.

Dr. Fox advised me that letting friends know you're thinking of them is what's most helpful. This could look like "I'm thinking of you every day and I'm right behind you" or "I'll be holding you in my prayers." They may or may not be in a position to return phone calls or emails, so don't be offended if you don't hear back from them promptly. Know that putting your loving thoughts out there - often, if you can - is helpful, whether or not you receive a timely reply.

When I asked my mentor and master teacher, Bill Flocco, if reflexology would be helpful to my client, Bill assured me that because reflexology helps the body relax and function better, he suspects reflexology would have the impact of actually helping chemotherapy work more effectively. Bill owns the American Academy of Reflexology in Los Angeles and has taught all over the world these last 34 years. (http://www.americanacademyofreflexology.com/)

So next time a client comes with a diagnosis of cancer and chemotherapy, I will offer love and reflexology.

Footnotes Newsletter - August 2016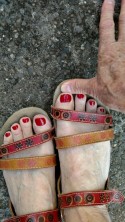 toes in sandals
Enjoy the last of Summer
Thank you for reading this newsletter and coming again soon for reflexology. You are important to me.
---
Sandals...are yours long enough?
This summer I can't help noticing how many people's sandals are too short and whose toes are more easily stubbed or scrapped or hurt. What is long enough? Take your thumb, turn it sideways along the end of your big toe and make sure you have that much extra length in your sandal.
---
Dialing down our news intake
People are coming to their reflexology appointments so stressed that I've begun to ask about their news consumption. And it is high. Perhaps we should look at this. Just this week a client came in and said he dialed down his news consumption after his last visit, and he is feeling much better.

Reading the news or listening, even to NPR, affects our sense of well-being. When my daughter was three, we had the TV on following the Gulf War. My husband and I were distracted and worried and our daughter began regressive behaviors and had difficulty sleeping. As soon as we turned off the news and stopped talking about this event in front of her, life went back to normal. And that's the first time I stopped making news central to my life. In these last 25 years there have been numerous national and international events that have caused all of us great concern. But does listening, watching or reading the same story over and over again help you know more...really?

Of course, I'm not suggesting you stop reading or listening. But as someone who is concerned with your stress level and well-being, I'm wondering if you would consider dialing down your news consumption to see how you feel.
---
Vertical Reflexology...something new for you and me
In August, I studied Vertical Reflexology with England's Lynne Boothe, who discovered how effective working on the top of the foot can be while you're standing. She began her work 23 years ago with folks in wheel chairs who could only stand for 5 minutes. I'm incorporating these top-of-the-foot techniques to kick-start your sessions. Let's see if this gives you more of what you come for…deep relaxation and support for your whole body, hormones and organs. This method is used throughout England, where I understand they have more reflexologists than massage therapists!
Footnotes Newsletter - July 2016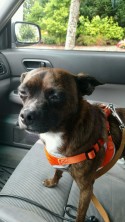 Meet Dakota
Happy Summer!
Thank you for reading this newsletter and coming again soon for reflexology. You are important to me.
Meet Dakota.
What a change this guy has made in my life. Now I'm out walking three times a day, looking for dog-friendly places to visit, and feeling the unconditional love this little fellow has for me. I've never had a dog before so imagine all the new things I'm learning. Dakota is my de-stressor!
When clients move away...
They have come together, this husband and wife team for the past two years. He came for numbness in his feet, imbalance and cold, really cold lower legs and feet. She came because they go everywhere together. Both are in their 80's. They are spirited, delightful clients and over time, with regular reflexology and leg massage and suggested stationary bike riding, his legs and feet have warmed and his balance has seemed to improve. Every three weeks they came and they could see progress in his walking and outlook. And so could I.

Then this June they came with the news they were moving to Grant's Pass. Not just moving to a new town, but building a one-level house within miles of their two daughters and families. She said, "I thought our lives were settled and we were just going to do what we do. But now life's an adventure again. Selling our home, building a new house, moving to a place we've never lived, and living near our children and grandchildren. Now we are engaged again."

I shall miss these clients because everyone who comes has a story and a life that is important to me. Whether you've come for one visit or for the last eight years, you matter to me. You make my life worthwhile and I am deeply grateful you have allowed me to touch you. Because you have touched me, too.
How long has it been since you've done something for yourself?
If you're not sure you want a dog, let reflexology be your de-stressor, your time out from rushing, feeling overwhelmed and exhausted, and having no vacation days left. You know what an hour of deep relaxation can do…'cause you tell me how much better you feel when your session is over. See you soon!

Footnotes Newsletter - November 2015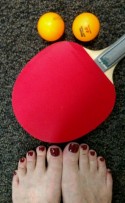 Nancie's toes get ready for table tennis
Reflexology...more than just feet.
A doctor friend called me a few weeks ago and asked me to see her patient, a diagnosed psychotic. Both the doctor and the patient's mother wanted him to have safe touch and felt reflexology would be a good experience. His mother would accompany him and be in the session room with him.

I prepared for this client as usual, and I did it early so I would have time to be calm and centered. My master's in counseling helped.

The client was most compliant. He didn't say much. First, I soaked his feet in warm water so he could feel my touch on his feet while sitting in a chair. Then I helped him to the warmed massage table and covered him with a fleece blanket. I decided to work only on his feet and keep the stimulation of the session low-key. I watched him as I worked and his eyes closed and opened slowly throughout the session. He didn't say much nor did he ask any questions. I actually thought he had fallen asleep.

And then he softly began to sing, "Zip-A-Dee-Doo-Dah, Zip-A-Dee-A, My oh my, what a wonderful day..." He seemed like an angel in a safe place singing the praises of reflexology and relaxation.
Learn something new...
How long has it been since you put yourself in the role of a beginner? Actually put yourself in a place where you know you might fail in order to learn something new?

Last year I took my two left feet to social dancing lessons. For 8 months. It always felt like 7th grade dancing class to me and never did get much easier. But now I can dance.

This October a client introduced me to table tennis…not the old ping pong we played with cousins in the basement. Of course, it hasn't been easy playing with 8 year olds or seniors who win the point, but, hey, it's not about the point, it's about the play. Check it out: http://www.jeffmasontabletennis.net/

Jeff is a marvelous teacher, and he offers beginning lessons on Sunday afternoons. Do I look like a fool? Oh probably, but what fun!
Footnotes Newsletter - September 2015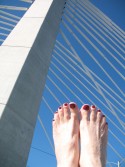 Nancie's toes cross Portland's newest bridge
How to Ask for Forgiveness
Ed was finally leaving the hospital.
We were waiting and Rose was rearranging things. Then I looked over and she was dishing up ice cream for us in paper cups. It was out of character for my Jewish mother to be serving ice cream before lunch and I was grateful for the sugar. In the middle of his ice cream, Ed said he wanted to talk to everyone on his team. At that moment, his team was Rose, Rich, Jessica and me, and he waited patiently for us to gather around.

When we settled, he said, "I want to apologize to each of you for being so rude and inconsiderate this last week. I've not been myself and you've worked hard to make things right. But nothing has been right here at this hospital. I've not been able to think clearly. And I have been unkind to all of you. I'm sorry."

Rich reached over and took Ed's hand and said, "Dad, there is no need to apologize. You've been sick and in pain. We are here because we love you and want to help. You have done nothing to apologize for." And then Rose said, "In the 74 years we've been together, you've never been rude or inconsiderate or raised your voice. It's just not your character. We know you have been in pain, Eddie. And I understand how hard this has been on you."

As I sat in my chair, I knew I was witnessing a significant moment in living. My sweet 96-year-old former father-in-law Ed was once again teaching me, this time teaching me how to say I'm sorry. He showed me how one adult asks another for forgiveness with a sincere sentence that begins with "I'm" and ends with "sorry." He has given me a beautiful lesson to practice the rest of my life. And I'm grateful.
Foot Notes Newsletter - July 2015

Nancie's toes delight in farm visit
How reflexology can help reduce your stress
How long has it been since you took a deep breath?
Or not rushed to finish…anything? We are swimming in stress and may not even realize it. Until we have some down time. When people walk out of my reflexology
room after 60 minutes, I can see a change. Their shoulders have dropped and their faces look relaxed.

We live like we are running from wild animals. Our heartbeats increase, our muscles tighten, our blood pressure rises, our senses sharpen, and adrenaline and cortisol rush through our bodies. It's called Flight or Fight. And over time this kind of stress causes serious health problems. Chronic stress can cause pain, raise blood pressure, suppress the immune system, increase the risk of heart attack and stroke, contribute to infertility, and speed up the aging process. Long-term stress can even leave us more vulnerable to anxiety and depression.

An hour of reflexology can help you rest and digest and actually give you a chance to reset nearly every system in your body. You'll feel your body catch up with itself: Your muscles relax and your stomach gurgles with digestive juices activated, your breathing deepens, and your mind stops its endless chatter.

Reflexology is not the only way to reduce stress. But it's the quickest way I know to help you relax. Who could imagine that touching your hands, feet and ears would have such a profound effect? Yet, I see it every day. Come and de-stress soon.
Foot Notes Newsletter - April 2015

Nancie's toes in the spring violets
Suspect you've got Plantar Fasciosis (aka 'Fasciitis')?
You know if you do!
It's that sharp pain you feel in your feet in the morning when you first get out of bed. Reflexology can help. I work with a leading podiatrist, Dr. Ray McClanahan [ https://nwfootankle.com/foot-health/drill/3/31 ], and his theory and research shows that what you may be feeling are minuscule tears in your heel or arch area, not inflammation.

When you come in, the first thing we'll do is check to see how your shoes fit, because 85% of foot pain comes from poorly fitting shoes. Stand on the inner soles of your shoes. When you look down, you should see the insole all around. If you can't see it, I suspect your shoe is too narrow or too short. Some people are in disbelief that their shoes are too small, even if their feet hurt--they have been wearing that shoe size for years. And that may be the problem, because our feet change with weight gain or weight loss.

Here is how reflexology can help. When I take your foot in my hand, I use my thumbs and fingers to increase blood circulation. Yes, this basic reflexology movement has an over-all effect on your entire system when it moves old blood away from reflex points and congested areas and brings new blood and nutrition to those places on your feet that hurt. This is what helps create healing. And then I'll show you a few exercises you can do to continue the healing process at home.

I hope you'll visit me again soon, and enjoy hand, feet and ear reflexology as well as compression and stretch massage.
Foot Notes Newsletter - December 2014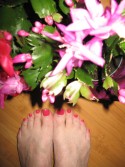 Nancie's toes wishing you happy holidays
Doctor, chiropractor, or acupuncturist prescribed massage ...
My LMT license allows me to work with you if you've been injured in a car accident and your doctor has recommended massage. Recently an acupuncturist came with her prescription. She had been thrown against her car door hard and was having pain and spasms in her neck, thoracic spine, left shoulder and left knee.

In Oregon those in car accidents are allowed to receive care from multiple providers for 12 months. And this client was doing just that. What I provided was reflexology specifically on her neck, shoulder, thoracic spine and knee reflex areas on her hands, feet and ears. And the last 20 minutes of the session I also used gentle massage strokes to coax her traumatized muscles to relax. And her muscles did relax. Using reflexology and massage together can help heal the body from aches and pains. I'm watching it happen more and more. Best yet, I submit your prescription to the insurance company and you don't have to worry about payment. Your insurance company pays me directly.
Foot Notes Newsletter - November 2014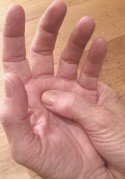 Nancie's hands enjoy reflexology
Relief for sore hands with reflexology
I want to hold your hand…great song, great idea.

Often people don't even know their hands are hurting until I begin the reflexology session on their fingers, around the thumb joint or across their palms. It might be all that keyboarding, or planting bulbs in clay soil. Whatever it is, the tenderness and the solution come at the same time.

When Dr. A came last, she was tired all over. She had spent several days cleaning her rental and was preparing to go out of town again. As soon as I began working on her hands, she sighed and told me how much they ached. Working consistently and gently between the metacarpals and phalanges—5 long bones along the top side of the hand and up and down her fingers-- she began to relax. Because by increasing circulation with reflexology, the tenderness subsides and the hands are renewed.

Now that the weather is wet and cold, after hand reflexology, I like to rub warm coconut oil on your hands, slip them into white cotton gloves and warm them in heated mittens. Reflexology and warmth...it's the kindest thing we can do for our hard working hands.
How reflexology and a little bit of massage work together
A month ago Daniel T., a reflexology client came with sciatic pain, from his left gluteals down his leg to his heel. It's a deep, painful hurt that gets your attention. First, I gave him a full reflexology session. The heated table warmed his body and I worked the sciatica reflex directly on his left heel. By the time I actually asked my client to turn over and put his face in the face cradle, his whole body was relaxed enough for me to help him release his tight left gluteal muscles. By bending his left leg up and slowly rotating his leg back and forth, we gently stretched these buttock muscles which sit over the sciatic nerve and eased the pain. After a full hour of reflexology, this massage technique did the trick in 15 minutes over a clothed body. This is the whole reason I went to massage school…to help ease your pain in more ways than one.
Foot Notes Newsletter - September 2014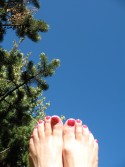 Nancie's toes enjoy the last of the summer sun
Relief for allergies with reflexology
Come fall, come spring...anytime is Portland's allergy season.
Every week someone comes in with their allergies acting up. It doesn't just happen in the spring. If you suffer from allergies, you know what I mean. Ear reflexology has one of the most helpful points for allergies; that spot is located at the very top of each ear, under the ridge.

Jessica T. has an allergy to black pepper and accidentally ate it at lunch during a reflexology workshop. Master teacher Bill Flocco (americanacademyofreflexology.com) was teaching his Advanced Ear Seminar in Portland when this happened and he guided Jessica through the process of holding the allergy point on her own ears for about an hour. Then another student gave Jessica a mini reflexology session. "Between holding the ear spot for allergies and the deep relaxation from the reflexology session, I was able to avert a real calamity," Jessica reminded me.

Using reflex points on the hands, feet and ears, I've seen sinus and allergy headaches disappear in an hour. It is not unusual to stop a session so clients can finally blow their nose!
How reflexology may release your neck pain
When I ask clients where they carry their stress or tension, most people say, "My neck."

Whether we are at a keyboard or lifting babies or lugging groceries up the back stairs, we are all pulling our necks forward and overstretching attached muscles. In a session where neck pain is the issue, the first place I go is the back of the large toe. As I gently press around that area, there is often a twinge of tenderness. Sometimes I can feel it, but often times you feel it first. And I continue working the back of all the toes…and then the neck reflex on the thumb and neck reflex on the ear until that tenderness is gone. Yes, by reflexing all three places, when the session is over, I hear time and again, "My neck feels looser. The pain is gone."

Ask me for one of the new hand and foot charts I've had printed for you so you can help yourself between sessions and help others, too. Reflexology is meant to be shared.
Foot Notes Newsletter - July 2014

Nancie's toes showing off Correct Toes
Bunions and hammertoes, oh my.
For six years now, I've been seeing how much discomfort foot pain can cause you.
And as much as I reflex a bunion or hammertoes, there has not been permanent relief. Until now. Dr. Ray McClanahan, the podiatrist I often refer you to, has developed braces for your toes with devices you wear during the day called Correct Toes. These spacers rehabilitate and strengthen your toes long-term. And are worth a try. I am now offering Correct Toes through my office with a 30-day money back guarantee because I'm so sure if you try Correct Toes you'll feel the difference and wear them for long-term foot health. https://nwfootankle.com/correct-toes

News just in: A client who began wearing her Correct Toes a few weeks ago emailed me:
I took a Barre3 class in SE and the instructor was wearing Correct Toes during the entire class. She even focused the beginning warm up exercises around strengthening the toes.
How reflexology can help with insomnia.
Not falling asleep, awakening mid-night, awakening before first light…all define insomnia.
Insomnia clients often report a deeper night sleep after a reflexology session. It's like reflexology re-sets the relax button. The whole experience drops the body down a few notches and the parasympathetic system turns on. Suddenly it's no longer fight or flight; it is relax and restore. By reflexing the endocrine system—the pineal, adrenal, thyroid—actually all glands and the diaphragm reflex, your body takes a deep breath and lets go. A client wrote on Portland Reflexology's Facebook page: Nancie always puts me to sleep. And that is a very GOOD thing ;-)
Foot Notes Newsletter - April 2014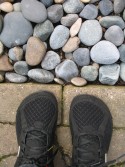 Nancie's toes loving her new roomy shoes
Your Shoes
I can almost tell when you walk in the door if your shoes are too snug. Your toes are yelling, "Help!" We get used to our tight shoes and they may feel fine. But honestly, when your toes have enough room to wiggle and move inside your shoe toe box, they help balance your walk, and your whole body feels great. These days I recommend trying on Lems-Primal2 found at PIE Footwear on NE Alberta St. (www.piefootwear.net/ ) What makes these shoes so great? They are actually designed to fit our feet. Look at all my toe room! The rubber soles are protective and flexible so I can actually feel the ground beneath my feet. And so lightweight. When I walk, I feel like walking even farther. Love, love, love these new shoes!
Got Sciatica?
The pain that shoots from your hip to your toes may be sciatica. Reflexology may help. The first thing we'll do is work on the hip and lower spine reflexes on the foot, hands and ears. And then work the heel where the sciatica nerve ends with thorough reflexology thumb movements. This increased circulation helps reduces pain. Now that I've earned my OR LMT, I can also help relieve sciatica pain by compressing your gluts and stretching your piriformis muscles through your clothing. Just last week, my client said she felt real relief and her hip and leg pain was greatly diminished after receiving both reflexology and stretch and compression massage.
What does ear reflexology have to do with sinus and allergy season?
There are specific points on your ear that may help you eliminate the symptoms of allergies. Let me show you. With both sinus and allergies, I also work the toes and fingers extensively to help clear sinuses. As well as the adrenal, chest/lung and the ileocecal value reflexes. Clients tell me they can feel their sinuses opening and sometimes we stop a session to get a tissue. I like to empower clients and show them exactly where on their ears and hands they can work themselves to achieve these results. Of course, there is nothing better than simply relaxing and letting me do the work and take good care of you.
Foot Notes Newsletter - February 2014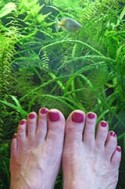 Nancie swims with her fish
New Reflexology
In 2013, I learned a whole new way of doing reflexology from Bill Flocco, American Academy of Reflexology, one of the most well-known and respected reflexologists in the world. Why something new? Because Integrative Reflexology incorporates hands, feet and ears in every session and my regular clients and peers said it was more powerful and more deeply relaxing.

New Massage Therapy License, 18833
In December, I passed the Oregon Massage Licensing Exam. So now I can also massage legs and arms that ache, heads that hurt, and lower backs that are stiff. For the first time, I can offer you the power of reflexology as well as the compression, stretching, and muscle relief of massage.

New Procedure for Help with Plantar Fasciitis or more appropriately, Plantar Fasciosis

One of the main reasons I went to massage school was to help those who have heel pain. Reflexology helps increase circulation when I work the heal area and that helps your healing. So now I'm thrilled I can work tight calf muscles as well…another symptom of this painful condition. Do your shoes fit? That's where we always start when you come with foot pain. Because 85% of foot pain comes from poor fitting shoes. I'm combining all I've learned about plantar fasciosis from reflexology school, massage school and my favorite podiatrist, Dr. Ray McClanahan. https://nwfootankle.com/foot-health/drill/3/31.

Foot Notes Newsletter - July 2012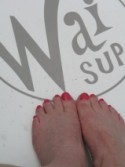 Nancie paddles the Willamette on a board
A leap of faith…take it
What have you been putting off because you think you can't, it's too expensive, you're too old, or whatever else you say to stop yourself from doing, being, or having what you want? Today I'd like to encourage you to stop letting your thoughts get in your way. Make that call, schedule that appointment, review your finances, buy a map…take one step in the direction of your heart's desire.

I put off going to massage school for 4 years because I thought I was too old, it would take too long, it would be too expensive and finally I just made an appointment to check out the truth. This week I start my 3rd quarter at Oregon School of Massage…and turns out I'm not too old, it's not too expensive and I'll have my LMT license this time next year. But more importantly, I'm not letting my thoughts get in my way of moving forward. And I now have a deeper understanding of anatomy and physiology, pathology and muscle movement. That "leap of faith" has given me a renewed "I can" feeling, and imagine this…I feel richer and younger. What's the one step you can take today to get that "I can" feeling in your life?
Tart red cherries prove helpful in reducing osteoarthritis pain
A new approach to ease inflammation
Several of you dear clients suffer from osteoarthritis pain so I'm always on the lookout for something to ease your inflammation. Recently a client told me she is taking tart red cherry extract and it works. Researchers at Baylor Research Institute found that a daily dose of tart cherries (as cherry extract) helped reduce osteoarthritis pain by more than 20 percent for the majority of men and women. Here's a link you'll find helpful if osteoarthritis and/or inflammation is your issue. http://www.choosecherries.com/health-and-nutrition/

Make sure your sandals are long enough
It made me cringe to see the little fellow stub his toes in his sandals.
Not just because he was crying and it was bloody, but because I could plainly see his sandals were too short. Sandals are the easiest to fit. Make your sandals a thumb-nail longer than your longest toe on your longer foot and make sure you can see all your toes flat on the sandal foot bed. Same rules apply to fitting closed toed shoes. Take both insoles out and stand on them. You should be able to see that insole all around your foot for the proper width and a thumb-nail longer that your longest toe for a proper length. We can't go by our shoe size anymore. First, because our feet change size all our lives. Second, because shoes are made all over the world and there is no consistent size standard in that industry.
Foot Notes Newsletter - December 2011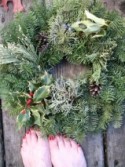 Nancie's toes wish you the merriest
Good-bye toenail fungus.
We've all heard many old wives' tales about how to get rid of toenail fungus.

So I was most interested to follow a client who has been dealing with toenail fungus for 15 years. In 2010 he sought laser treatment from Dr. John Mozena of Town Center Foot Clinic, a podiatrist in Happy Valley.

Six months later, 5 of the 7 toenails were clear. My client returned to have 2 toenails lasered again. Now those toenails look like they are growing back healthy. If you have been dealing with toenail fungus, this may be a procedure that works for you, too.
Comfort your hands with warm gloves.
When I began offering hand reflexology, I found many of you with arthritis didn't find hand reflexology helpful.
So I met recently with Sybil Fisher, OTR/L, CHT at Providence for suggestions. Sybil is an occupational therapist and certified hand therapist at Providence Sports Care Center near Jeld-Wen Field. Her group works with the Timbers soccer team and the University of Portland athletic department.

Her advice for my clients with arthritis is heat, warm or dry, and home paraffin treatments. Two other solutions for persistent hand pain are anti-inflammatory ultrasound as well as exercises that teach movement modification. If you know someone suffering with hand pain, you might suggest an appointment at the Providence Sports Care Center with Sybil Fisher.

Sybil also highly recommends Kaiser's certified hand therapists at Tualatin and Mother Jozef Plaza, both managed by Jennifer Allen, another excellent hand certified therapist..
Foot Notes Newsletter - June 2011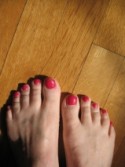 Nancie's toes about to start dancing
Dare to Go Bare--barefoot, that is

People ask me what are the benefits of going barefoot. Here they are.
There is so much to learn and sense from walking on the ground in bare feet. Just try it...on sand, grass, dirt, stones or pebbles. Each foot has 7200 nerve endings meant to be used. Our feet need to feel, flex, grasp, stretch, twist, and breathe. According to my favorite Portland podiatrist, Dr. Ray McClanahan, going barefoot strengthens our muscles, thickens our skin and prevents injuries.

My first step into the barefoot world was at a dinner recently when The Barefoot Book author Daniel Howell, PhD, came to town to promote barefoot running. We were dressed up and barefoot.

Dr. Howell explained how going barefoot strengthens our feet, makes them more flexible and improves our body alignment. You've heard me say that 85% of our foot problems are caused by poorly fitting shoes. As an expert on human anatomy, Howell agrees.

So imagine my delight a few Sundays ago when I walked into The Sacred Circle, an ecstatic dance group at the Tiffany Ballroom and saw more than two hundred folks dancing barefoot! As everyone danced, swayed, circled, stretched, stomped, strolled, and jumped in bare feet to the music, you could feel the joy. I, too, loved the sense of moving freely in my bare feet on the warm wooden floor.

It seems there's a revolution afoot. And I say, join in. (Unless you have neuropathy, which means you've lost the feeling in your feet and walking barefoot could cause you major medical problems.) Walk barefoot somewhere this week. And I bet you'll start noticing others walking barefoot in Forest Park, running on dirt paths or gardening at a p-patch.

PS. If you can't see yourself going barefoot this week, then start looking for minimalist shoes at Pie Footwear on Alberta Street in Portland.
Foot Notes from Portland Reflexology May 2011
Sleeping Angel
People ask me what are the benefits of reflexology.
Here is a story that suggests better sleep.
In March a mother brought her 6-year-old Betsy to Portland Reflexology. Betsy was shy for about a minute and then began talking and spinning and soon her energy was everywhere. Betsy's complaint was she couldn't sleep because her feet were hot, so hot they woke her from a deep sleep at night. This had been going on for several weeks now and the doctor didn't have any ideas. Nothing had changed at home or at school. Except now both mother and daughter were exhausted.
Because Betsy was too small to fit into my reflexology chair, I made a cozy blanket bed for her on the floor. The moment I picked up Betsy's small foot, she quieted. Not a peep, not a stir. She just lay quietly and let me touch key points on her feet for 15 minutes. With children, that's all it takes to balance their energy.
Just before the session ended, Betsy looked at me and said, 'I see lots of angels in here."
"Could be," I said. "I need all the help I can get."
When I called to check on my young client two days later, her mother reported Betsy had slept 10 hours straight that first night and things were back to normal at their house.